It is common practice to analyze student test scores to reflect on instructional practices, to make adjustments and to improve teaching and learning. Hosting these data conversations is uncomfortable and avoided by many administrators and teachers alike. Why is it so difficult to talk about numbers? Teachers have made a huge investment of time and energy in their students. Therefore, they have a tremendous amount riding on the outcome of assessments. Thus making discussion of test scores becomes personal, emotional, and sometimes troublesome.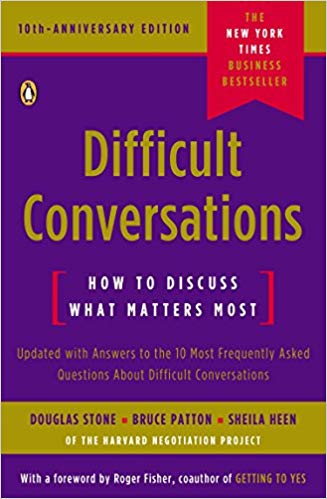 As is often the case, the only way out is through. It may seem counterintuitive, but to make the conversation doable you need to deepen the discussion. Douglas Stone, with the Harvard Negotiation Project, explains in every one conversation there are actually three taking place. The 'what happened conversation,' the 'feelings conversation' and the 'identity conversation.' Difficult conversations occur when only the 'what happened conversation' takes place. To make data conversations safe, the 'feelings conversation' and 'identity conversation' need to be tackled as well.
The feelings conversation is often unspoken. Being left unsaid, the emotions percolate under the surface adding to an awkward social situation. These feelings are often built around the relationship of those involved in the conversation. Given time to acknowledge possible feelings that come up when analyzing the data allows the participants to prepare for their inevitable emotional response. This is not to say every data session begins with therapy. It means, before establishing a routine of data discussions, the team needs to talk about their emotional investment in their children and their teaching. A safe environment is built by recognizing that our human reactions are normal, valid, and expected, which allows the team to move forward.
The identity conversation may be more difficult as, for the most part, we are not discussing a corporate identity, but individual identities of each teacher. Each teacher's response can vary based on how long they've been teaching, if they feel confident in their subject matter, or how long the teaching team has worked together. Establishing a safe space where no one's identity or value as a teacher will be questioned is key to conquering this hurdle. By addressing what is being said about themselves as individuals allows the teachers to build confidence and embrace additional strenuous work.
Once the teachers understand their emotions are valid and their identity is safe, it is time to dig into the 'what happened' data conversation. In its simplest form, the data is telling us where the children are on the learning curve and what they are asking to be taught next. The teachers need to be encouraged to celebrate the successes found in the data; unfortunately, this is usually minimized to preserve time. Starting with celebrating what the evidence shows about good teaching gives time and space to focus on what is being done right.
After celebrating successes, it's time to discuss what teaching strategy was implemented prior to the assessment and what the data is telling us about the effectiveness of that strategy. Being curious about the teacher's experience while teaching and the information from the outcome allows us to build understanding about what we want to continue doing and what needs to be stopped. By nonjudgmentally establishing what worked and what didn't, you are preparing for the next cycle of the continuous improvement process. It is the springboard to next steps.
By investing time and energy in the three conversations, administrators are demonstrating the value they have for their staff and the importance of the reflection process. Giving substantial time at the beginning of this process to recognize how teachers feel about their work, how their individual contributions are appreciated, and that their growth is essential to student success pays off. Having a positive experience using data to reflect on instructional practices makes the continued work more satisfying and effective.
Sources
Harvard Negotiation Project, et al. Difficult Conversations: How to Discuss What Matters Most. 2nd ed., London, Penguin Books, 2010.
Parker Boudett, Kathryn, et al., editors. Data Wise: A Step-by-Step Guide to Using Assessment Results to Improve Teaching and Learning. Expanded & Revised ed., Cambridge, Harvard Education Press, 2015.